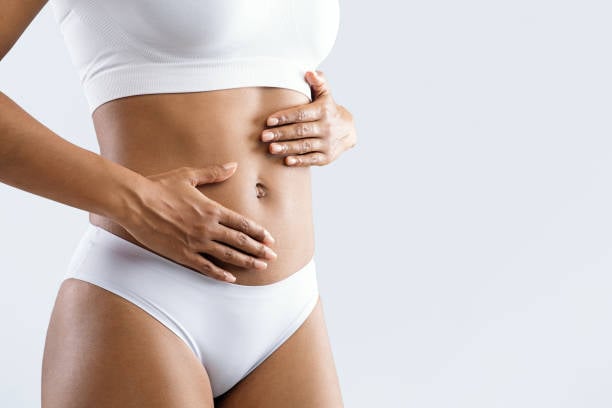 An African American tummy tuck, or abdominoplasty, is a body sculpting procedure that enhances a patient's natural physique. The basic procedure is the same as with all tummy tucks, but the aesthetic goals differ to create results pleasing to African American patients.
Celebrate Your Curves
No plastic surgery procedure should be performed the same way for every patient. Different patients have different needs and aesthetic goals. African American women that seek tummy tucks tend to have different ideal results than Caucasian or Asian women. While some Caucasian women want to slim down as much as possible, African American women usually wish to accentuate their natural curves.
When selecting a surgeon, you want one that understands your personal aesthetic goals and doesn't apply a one-size-fits-all solution to your unique needs.
Michael J Yoo, M.D. is a surgeon who relates to his patient's individual desires. Dr. Yoo recognizes that African American women have different expectations regarding tummy tucks and tailors his procedures accordingly. With a focus on understanding what his patients want, Dr. Yoo applies his knowledge of different skin and body types to devise an aesthetic plan that meets his patients' needs and goals. If you are an African American woman and curious about how tummy tucks can be tailored to meet your needs, begin a conversation with Dr. Yoo. You can reach him online or by calling his offices in Beverly Hills and Orange County.
For Beverly Hills, (424) 209-9925.
For Orange County, (949) 861-3340.
To learn more about plastic surgery follow Dr. Yoo's blog.
About African American Tummy Tucks
After giving birth, many women want to return to their pre-pregnancy shape. Tummy tucks can restore the body to a pre-pregnancy state. They can also sculpt the body to achieve the desired appearance in anyone with lax or loose skin due to weight loss or genetics. While tummy tucks focus on the abdomen, they affect the appearance of the upper torso from the breasts to the hips. Different people have different goals for how they want their body to look after a tummy tuck. When reshaping your abdomen to your beauty ideals, Dr. Yoo takes into account your ethnicity.
Benefits
Restore your pre-pregnancy/weight loss form
Achieve the abdominal shape you desire
May reduce back pain
May diminish urinary incontinence
Can improve posture
One of the lesser-known benefits to a tummy tuck is that it can help with stress urinary incontinence (SUI). 60% of patients in one study who received tummy tucks saw a reduction in their SUI.[1]
Good Candidates
Candidates for a tummy tuck should be in good health and hold realistic expectations for the procedure. Tummy tucks address excess skin in the abdomen that results from pregnancy or weight loss. But it's important to remember that tummy tucks are not a weight-loss procedure. If you need to lose weight, it's best to postpone a tummy tuck until you are close to your desired body weight.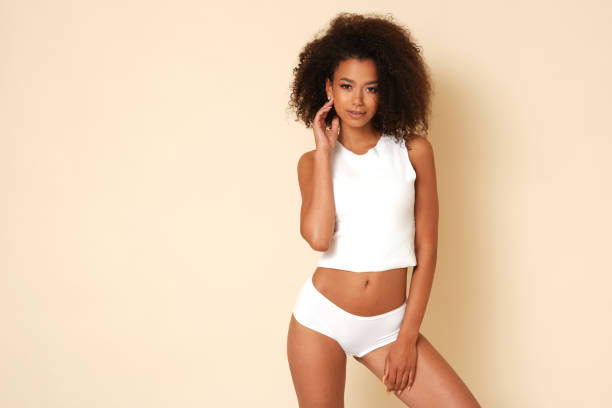 The procedure works best for non-smokers. If you are a smoker and can quit for a month before and after your procedure, then make sure to discuss this during your consultation to discover if a tummy tuck is right for you. Optimal candidates should not have any serious medical conditions that might interfere with their body's healing. Discuss any conditions during your consultation.
Your Consultation in Beverly Hills or Orange County
Your path to the body shape you desire, and the resulting self-confidence, begins with a personal consultation with Dr. Yoo. Dr. Yoo strongly believes in open communication with all his patients. During your consultation, your medical history will be reviewed along with your aesthetic goals. You shouldn't hesitate to ask any questions and address any concerns you might have. Dr. Yoo understands that women of every ethnicity can have different personal goals and ideals of beauty. He will take into account your expectations for an African American tummy tuck. One important aspect is the sharing of before-and-after pictures. This way you can see actual results and not just imagine them. Then, calling upon his experience, he will devise a comprehensive strategic plan that meets your needs.
Dr. Yoo is a double Board-Certified plastic surgeon who has received extensive training at world-class plastic surgery facilities including the famous Cleveland Clinic.
Passionate about the art and science of plastic surgery, Dr. Yoo dedicates himself to continually advancing his knowledge. In his spare time, he travels to other plastic surgery centers to expand his perspective. With Dr. Yoo, you get a surgeon who views plastic surgery as his calling, not just a day job.
Types of Tummy Tucks
Full Tummy Tuck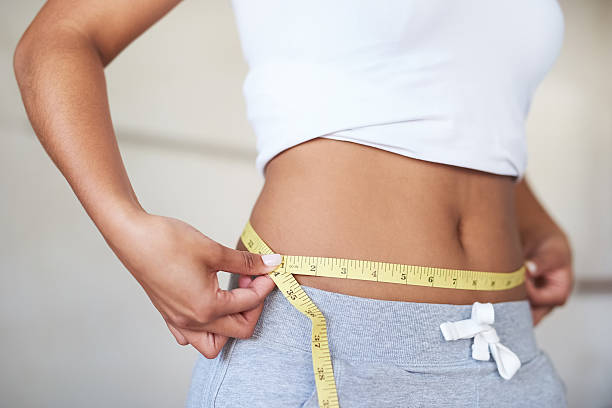 The full tummy tuck is a comprehensive procedure that will remove extensive amounts of excess skin and provide a welcome tightening of the muscles. Dr. Yoo usually makes the incision along the bikini line to minimize its visibility. The internal muscles, which are popularly called a "six-pack", enjoy tightening and resculpting. He then re-drapes the skin around a well-toned abdomen. The process also removes any excess skin. In African American women that wish to accentuate their curves, care will be taken to not reduce the hourglass figure but rather complement it with a flatter tummy. Dr. Yoo pays attention to skin texture so no excess scarring results.
Mini Tummy Tuck
Mini tummy tucks follow the same basic principle as full tummy tucks but are not as drastic. The incision will be smaller and the muscle-sculpting will be less intensive. He will resculpt the abdominal muscles and re-drape the skin, though less drastically than with a full tummy tuck. This is best for patients that do not require more comprehensive treatment.
Modified Tummy Tuck
The modified tummy tuck is even less intensive than a mini tummy tuck. This procedure usually just addresses removing excess skin and re-draping it or providing a minor tightening of the abdominal muscles.
Male Tummy Tuck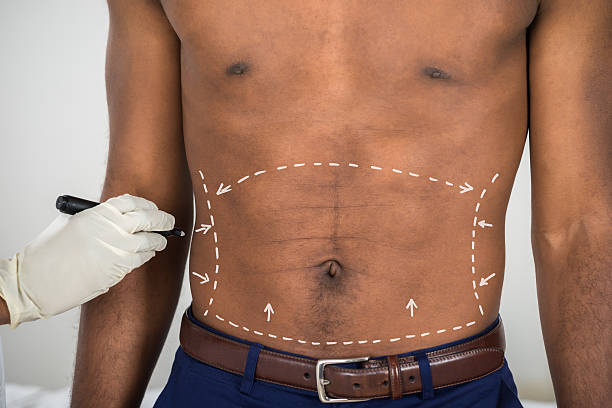 Yes, men receive tummy tucks as well. They might not experience pregnancy, but men that lose a significant amount of weight often have excess skin as a side-effect. This excess skin cannot be worked off through diet or exercise.
Preparation
The most important thing to do before your surgery is to follow all the specific instructions Dr. Yoo's office provides you. Dr. Yoo tailors instructions for each case, so please follow them carefully. In general, abstain from smoking for a month before your surgery. Anti-inflammatory medication, which includes aspirin and ibuprofen, should also be avoided. Make sure to discuss any prescription medication with Dr. Yoo and adjust your intake accordingly. Arrange for a ride home after surgery.
The Procedure
Tummy tucks are performed under general anesthesia. Dr. Yoo will then use a surgical marker to guide the placement of incisions based on the aesthetic plan you discussed during your consultations. While you sleep peacefully, Dr. Yoo will remove the unwanted skin and tighten your abdominal muscles. Tummy tucks usually last between 2-4 hours. When you awaken, you will see the phenomenal results of your newly sculpted body. You will be bandaged in the appropriate dressings and drainage tubes will be provided.
Your Recovery
Make sure you appoint a trusted family member or friend to drive you home from surgery and look over you for at least one night. It's even better if they can help you out for a few days as your physical activities will be reduced.
Patients should remain mostly in a Semi-Fowler position for two weeks after a full tummy tuck. The Semi-Fowler position can commonly be called a beach chair position. The back is elevated around 30 degrees and the knees are raised to bend the legs. This position provides optimal healing and reduces stress on the abdomen.[2]
Protein is important. Your muscles need to heal. And protein provides the energy necessary to repair your muscles. Whether it's eating meat, eating beans, or taking supplements like protein shakes, it's important to ensure you have enough protein.
You will have a dressing and a drainage tube installed immediately after surgery. Don't remove these on your own, but follow Dr. Yoo's aftercare instructions for when these can be removed. Usually, they are removed within 5-7 days.
A tummy tuck will affect the muscles and abdomen, so Dr. Yoo recommends taking at least a week or two off from work for a mini tummy tuck and 3-4 weeks for a full tummy tuck.
Avoid any strenuous activities, including sex, and give your body the proper time to heal. You may gradually resume your normal activities over a 6-8 week period.
Only take medication that Dr. Yoo prescribes or approves. Avoid alcohol for at least two weeks to ensure your body enjoys a proper recuperation.
Make sure to walk after surgery, but don't overdo it. It's important to get your body moving again – even the same day as surgery – but don't strain yourself. During the first few days, you should plan to not spend much time standing.
Results
You'll begin to see the results that honor your African American heritage immediately surgery. But for your full curvacious results to materialize, it will take a few months. Once your body completely heals and you can resume your usual diet and exercise routine, the results of a tummy tuck will really shine. Abdominoplasty results in a very high rate of patient satisfaction.[3]
How Much Does an African American Tummy Tuck Cost?
After reviewing your medical history and discussing your goals and expectations, Dr. Yoo can determine which type of tummy tuck would best suit you and will then provide you with comprehensive pricing.
FAQ
Can Black Skin Affect a Tummy Tuck?
African American skin has a different texture than Caucasian skin. This can affect scarring. After reviewing your medical history, Dr. Yoo will customize your surgery to take your skin texture and skin type into account. Internal sutures can be used, as well as surgical glue, to minimize the risk of scarring. 
References
Carruthers, K. H., Kocak, E., Hulsen, J. H., & Mcmahan, J. D. (2014). Improvement in Stress Urinary Incontinence After Abdominoplasty. Aesthetic Surgery Journal, 34(7), 1091-1098. doi:10.1177/1090820×14544023
Regan JP, Casaubon JT. (2017) Abdominoplasty (Tummy Tuck). PMID: 28613712.
Chowdhry, S., Davis, J., Boyd, T., Choo, J., Brooks, R. M., Kelishadi, S. S., Tutela, J. P., Yonick, D., & Wilhelmi, B. J. (2015). Safe Tummy Tuck: Anatomy and Strategy to Avoid Injury to the Lateral Femoral Cutaneous Nerve During Abdominoplasty. Eplasty, 15, e22. PMID: 26171094