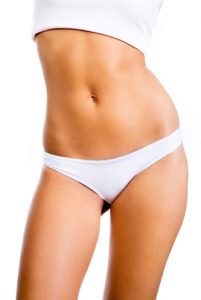 Are you bothered by chubby thighs that jiggle with every movement?
The thighs tend to develop excess fat that can be resistant to healthy eating and exercise. Toned, slim thighs are not out of reach! Liposuction is a great solution to bothersome fat stores along the thighs. This minimally-invasive technique effectively removes fat and sculpts the legs.
Liposuction may even help you achieve an inner thigh gap! Lipo surgery is a revolutionary technique that is helping men and women everywhere achieve slender sexy thighs!
About Liposuction
Liposuction has been around for decades. This fat removal technique has been altered and advanced to provide patients with a safe and efficient treatment for reducing bothersome fat bulges. In a liposuction procedure, a thin tube called a cannula is used to slim down the fat layer found just below the skin.
Dr. Yoo specializes in tumescent power-assisted liposuction. He has found this method to be highly effective, safe, and provide the best results.
This lipo technique implements tumescent fluid, a mixture of epinephrine and local anesthesia. The fluid is administered to the treatment area first and helps to prepare the area for fat removal. Epinephrine constricts blood vessels which minimizes bleeding during surgery and lowers the amount of bruising in post-operative recovery. The solution will separate fat cells and allow them to be more accessible and easy to remove.
Power-assisted liposuction implements a vibrating tool that helps to further break up fat cells so that the fat removal process is gentle and does not cause much trauma to the surrounding healthy tissues.
Benefits
Liposuction is simple, effective and helps you achieve the results you want right away. Men and women everywhere are choosing liposuction to obtain their ideal aesthetic. Dr. Yoo is a highly-skilled, board-certified surgeon who will artfully sculpt your legs. Liposuction is a great treatment for people who are ready to achieve the thighs they have always wanted.
Who is a Good Candidate for Thigh Liposuction?
The best candidate for thigh liposuction someone who is in good overall health and has tried various ways to slim down their thighs but to no avail. The best way to find out if liposuction is the best way to slim down your thighs is to schedule a consultation with Dr. Yoo. Dr. Yoo will help you figure out your best treatment plan!
Personal Consultation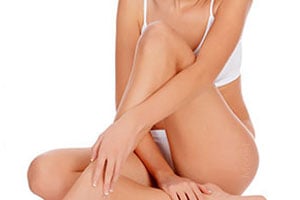 During your meeting with Dr. Yoo, you will be informed of what is involved in liposuction surgery. Dr. Yoo will ask about your medical history, allergies, current health, and medication regimen. This information will help him determine if liposuction is the best solution for your thighs.
A personal consultation with Dr. Yoo is a great time to ask questions and voice any concerns you might have. Dr. Yoo will make sure to take the time to answer your questions. Together, you and Dr. Yoo will create your best treatment plan for your thighs.
Preparation
The best way to make sure your surgery goes well and you obtain the results you want is to prepare. Dr. Yoo will provide you with instructions on how to get ready for the surgical appointment and recovery. Follow these instructions carefully. They will include steps such as filling and picking up prescriptions, arranging rides, taking time off from work and designating a location in your home for recovery.
Thigh Liposuction Surgery
Thigh liposuction is performed under general anesthesia with minimal sedation. Small incisions will be placed along the treatment areas. These incisions will be placed along the natural curve of the thighs. Tumescent fluid will be administered through these incisions and then a cannula will be used to remove both the fluid and unwanted fat stores. Once Dr. Yoo has artfully sculpted your legs, the incisions will be closed and bandaged.
You will be taken to a recovery room and monitored until you wake up.
Recovery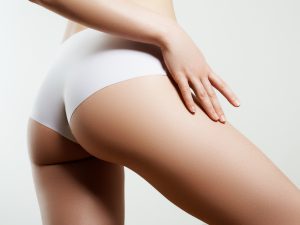 After surgery, your legs will swell and feel sensitive. The best way to a healthy recovery is to stay hydrated and get plenty of sleep. Prescribed medications will help control any discomfort and allow you to rest well.
A compression garment will be needed to keep swelling down and allow your body to adjust to its new shape. Keep your thighs elevated and sleep on your back for a few weeks so as not to apply pressure to your incisions.
A follow-up appointment with Dr. Yoo will allow him to check on your incisions and make sure your thighs are healthy. This meeting will also give him the chance to inform you what to expect for the rest of your recovery.
Results
You will immediately notice your thighs are a slimmer shape. Your final results will set in after a few weeks! Your new sexy thighs will last you years. Once the fat has been removed, it will not return. Fat cells can change in size but not multiply. That pesky fat is gone for good! The best way to keep your legs looking great is to exercise and eat healthily.
Complementary Procedures
Liposuction can be performed all over the body. Treating a second area along with your thighs will improve your body comprehensively.
Common liposuction treatment areas include the knees, hips, abdomen, back, flanks, neck and arms.
Dr. Yoo is skilled at sculpting these areas and can help you truly transform your body. If you are interested in slimming down not just your thighs but another problem area, ask Dr. Yoo about your options.
How Much Does Thigh Liposuction Cost?
The cost of thigh liposuction will be particular for each person. Each person will have a unique aspect of their thighs they want to improve. Whether you want to diminish bulging outer thighs, obtain an inner thigh gap or both a liposuction surgery with Dr. Yoo will help you achieve your body goals! Because of the personalization that is poured into each of our patient's treatment plans, the cost for each patient will be unique.
For smooth, sexy thighs schedule a consultation with Dr. Yoo by clicking here or give our office a call at (949) 861-3340.
FAQs
Does liposuction work on thighs?
Yes! Liposuction is a great treatment for thick or chubby thighs. A liposuction treatment that removes fat bulges from the outer thighs and slims down the inner thighs will impact your whole appearance. Slimming down the legs may balance out your body and help you look your best.
Is thigh liposuction painful?
No, thigh lipo surgery should not be painful. During surgery, anesthesia will be used to make sure you are comfortable. After surgery, you will be provided with medications to ensure your recovery is comfortable.
How long does it take to recover from thigh liposuction?
The common recovery time for thigh liposuction is about two weeks. Most patients can return to work after about a week but should avoid strenuous activities and putting pressure on the inner thighs.
Is liposuction worth the money?
Yes! Liposuction will help you achieve the results you want right away. Other treatments that are less invasive or non-surgical require multiple treatments and may cost more than a single lipo treatment by the time you achieve your goal. Dr. Yoo will work with you to create your best treatment plan.
Which is better, CoolSculpting or liposuction?
Liposuction is a much more effective body contouring technique than CoolSculpting. CoolSculpting is a non-surgical fat reduction treatment that uses cold temperatures to kill off fat. This treatment does not provide immediate results like liposuction. With CoolSculpting, results are visible for a couple of months. Whereas with liposuction, your results are immediate and only get better with time. Most people can achieve their desired results after one liposuction procedure. With CoolSculpting, patients often have to undergo multiple treatments. For your best body sculpting treatment, liposuction is your best choice!
Can you get lipo on your inner thighs?
Yes! Liposuction is a great treatment to reduce bothersome fat along the inner thighs. Do your inner thighs touch? This can be uncomfortable and cause chafing and other uncomfortable issues. Inner thigh fat is very difficult to tone and diminish. Liposuction will help you achieve long-term results by removing unwanted fat from the inner thighs. These results are long-lasting and will boost your confidence!
How do you lose inner thigh fat?
If dieting and thigh workouts aren't providing the results you want, then it is time to look into cosmetic procedures. Liposuction is the go-to body slimming option. With advanced techniques, Dr. Yoo will skillfully remove fat and help you achieve slimmer inner thighs.
How much weight can you lose with liposuction?
A few pounds may be lost with liposuction but the goal of the surgery is not weight loss. Liposuction is meant to shape the body and emphasize natural contours. Liposuction is not a weight-loss procedure but rather a means to sculpt the body.

If you are looking to slim down a certain area of your body, like the thighs, lipo surgery is your best solution! This simple treatment will provide the results you want right away. To get started towards a healthier and more attractive appearance, schedule your consultation. We look forward to talking with you.