Time, gravity and genetics affect the way our faces age; it's inevitable. The full, vibrant, oval or round appearance of youth eventually transforms into the deflated, tired, squarish appearance of maturity. A facelift, which is frequently combined with a necklift, can help you restore the youthful appearance you once had.
Aging brings characteristic changes to the appearance of our faces. Our faces deflate and lose volume. The skin along our jawlines sag and become irregular. Similarly, our neck skin starts to sag and 'bands of skin' appear. My patients in the Orange County area seek facelifts and necklifts to reduce the signs of aging. If you'd like to return to a fresh, youthful appearance, these procedures may be for you.
About these Procedures
A necklift is often combined with a facelift, in order to address the sagging neck. In some individuals, either procedure can be performed alone.
A facelift, or rhytidectomy, addresses many of the above concerns by tightening facial skin and repositioning facial fat.
Facial fat transfer is a great adjunctive procedure to enhance the appearance of a face/necklift. By replacing fat where it has been lost, fat transfer helps restore a more youthful facial shape.
Facelift Techniques Today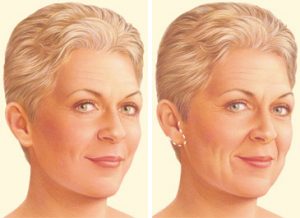 The facelift technique has advanced significantly from decades past when the skin only was pulled to 'tighten' the face. This created unnatural contours and a 'windswept' facial appearances. Moreover, the results of 'skin only' lifts were brief due to the natural elasticity of skin and its ability to stretch over time.
I use an advanced technique referred to as a bilamellar, high SMAS facelift. This technique utilizes the tissue layer deep to the skin called the SMAS, or Superficial Musculoaponeurotic System, to lift and reposition fallen fat and restore more youthful contours. The result is a more natural and longer lasting rejuvenation of your face and neck.
My Personal Approach To Face/Neck Lift Surgery
My goal is to provide you a natural, refreshed appearance without the 'stigmata' or tell-tale signs of surgery. The incision design is meticulously planned to make scars less conspicuous and hidden. Most of my patients are told by friends and family that they look different – well rested and brighter – without realizing that they've had facial aesthetic surgery.
Facial anatomy is an area of considerable interest to me and I've spent a tremendous amount of time perfecting my surgical techniques in this area. This has included visiting and learning from some of the most preeminent facelift surgeons in the country from Miami to San Francisco.
As a Double Board Certified Plastic Surgeon, with extensive experience in facial aesthetic surgery, I can provide you with safe, effective and reliable results that you can enjoy long term.
Recovery and Results
Most patients are extremely pleased with the significant improvements they achieve with a face/necklift procedure.
There is typically little to no bruising from this procedure. Swelling is also usually minimal and can be expected to improve significantly over the next several weeks. Sutures are removed in 6-7 days. After approximately 10 days, light makeup use is permissible and most patients are ready for light social activities – going out to dinner, meeting friends and family etc.
Because every patient's anatomy is different, every surgery I perform is uniquely tailored to best suit the needs and desires of the individual.
Before & After Photos
Schedule a Consultation
During your consultation, I'll discuss your goals and answer any questions you may have regarding this procedure. If you are considering this procedure, please call my Irvine office or Contact Us here to get started and see if a facelift or a necklift is for you.