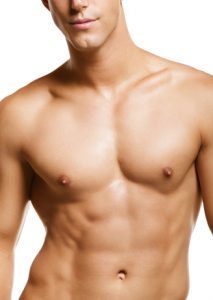 Are you concerned about the development of tissue in your chest? This issue is more prevalent in men than you may think!
Many men will develop a disbalance in their hormones at some point in their lives. A higher level of estrogen can cause male breast tissue to swell. Diet and lifestyle have also shown to contribute to excess male breast tissue.
"Man boobs" can be uncomfortable and a source of embarrassment. If you are concerned about the appearance of your chest, male chest liposuction may be your best solution!
About Male Chest Liposuction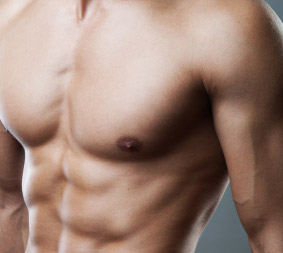 Male chest liposuction is a safe, FDA-approved way to reduce male breasts, a condition also known as gynecomastia. This treatment uses advanced liposuction techniques to remove unwanted fat in the breasts and help return them to their masculine shape. Breast reduction for men is common and sought after by men of all ages.
Men with breasts should not let their condition hold them back from engaging in activities that they love!
Liposuction is an excellent solution to reducing unwanted tissue and sculpting the male chest. Dr. Yoo will approach your procedure with a man's perspective and attention to detail. If you are concerned about the appearance of your chest, Dr. Yoo will help reduce your concerns and develop a plan for you to achieve your body goal!
Types of Liposuction
Dr. Yoo specializes in one form of liposuction that implements tumescent fluid to help provide a smooth procedure and recovery.
Tumescent Liposuction
Tumescent fluid aids in the removal of fat and makes recovery time shorter.
This lipo technique uses a combination of fluids to help reduce trauma to tissues during lipo surgery and help you have a swift recovery. The fluids used are saline, local anesthetic, and epinephrine. This mixture of solutions, also known as tumescent fluid, will cause the fat cells to swell, making them easier to break up and gently extract. The local anesthetic will help numb the treatment area and the epinephrine will cause blood vessels to constrict. The result is less blood loss and trauma to surrounding tissues. Tumescent fluid helps to lower bruising and swelling for a more comfortable, shorter recovery.
Power-Assisted Liposuction
This form of liposuction has been tried and tested for decades. Dr. Yoo implements it because it has had plenty of time to be tweaked by professionals and shows long-term, positive results. In a power-assisted lipo procedure, Dr. Yoo first injects the treatment area with tumescent fluid and then begins power-assisted liposuction. Power-assisted lipo surgery uses a small cannula and suction device to gently extract fat cells.
Power-assisted liposuction also uses small vibrations to further remove stubborn fat cells from the surrounding tissue. Dislodged fat cells will be removed from the chest and will not return.
Both of these techniques are often combined to help sculpt the chest and promote a healthy recovery.
Dr. Yoo has a lot of experience assisting patients to achieve their body goals. He prides himself on his work and is passionate about helping all of his patients. If you are interested in how Dr. Yoo can reduce your man breasts and achieve your ideal masculine chest contour, schedule a consultation with him today.
Causes of Gynecomastia
Gynecomastia is an uncomfortable condition and may be a source of embarrassment.
Gynecomastia, or the swelling of male breast tissue, is caused by a disbalance in the male hormones. When estrogen levels are higher than testosterone levels, the male breast tissue swells. This condition often affects both breasts but may affect just one. Newborn male babies, boys going through puberty, and men in their fifties or older may develop gynecomastia because they are experiencing a fluctuation in their hormones. Alongside swollen breast tissue, a man with gynecomastia may experience tender breasts that discharge fluid.
Health concerns may also be a source of gynecomastia. Conditions that contribute to gynecomastia include obesity, liver disease, tumors, and poor diet. Gynecomastia causes can include medications, illegal drugs, and alcohol.
If you are bothered by having male breasts, go to your doctor first to see if there is an underlying problem.
If you are healthy and looking for gynecomastia treatment, look no further. Dr. Yoo performs male chest liposuction procedures with precision and expertise. Your male chest reduction procedure will leave you with a defined chest and boosted confidence!
Benefits
The most noted advantage of male chest liposuction is that it will give you the results you want right away! No more targeted chest workouts or ineffective diet changes. Male breast surgery will contour your chest to appear masculine after one treatment.
Candidates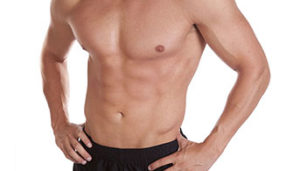 Many men are interested in enhancing the appearance of their chest. Whether you have swollen breasts or are having a difficult time obtaining muscle definition, Dr. Yoo can help. The best candidates for male chest liposuction are healthy men with good skin elasticity. If you are interested in male chest lipo surgery, schedule a personal consultation with Dr. Yoo today.
Personal Consultation
In your private meeting with Dr. Yoo, you will be given the incredible opportunity to discuss your concerns with a board-certified plastic surgeon. He will listen to your concerns and examine your chest. Dr. Yoo will ask about your general health and current medications to gain a good understanding of your health.
Dr. Yoo will take the time to explain male chest liposuction surgery to you and how it would be performed on you to create natural improvements.
Together, you and Dr. Yoo will create a treatment plan that addresses your concerns and achieves your desired outcome. An appointment will be scheduled and Dr. Yoo will instruct you how to prepare for your surgery and recovery.
Preparation
Dr. Yoo will let you know if you need someone to drive you to and from your appointment.
Prior to your appointment, you will need to pick-up necessary medications and arrange for someone to stay with you for the first twenty-four hours of your recovery.
You will need to take a few days off from work, up to seven days, to ensure you have ample time to rest and recover. Get a good night's rest before your surgery and wear comfortable clothing to the appointment.
Procedure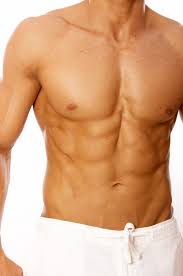 Depending on what Dr. Yoo and you choose, your procedure may be performed under general anesthesia or local anesthesia with sedation.
When you arrive at your appointment, you will change into a gown and the medical team will prep your chest for surgery. The predetermined form of anesthesia will be applied and, once it has taken effect, your surgery will begin.
Small incisions will be made on the chest. The tumescent fluid will be introduced to the treatment area. A thin cannula will be inserted into the incisions. Vibrations will help detach fat cells from tissue. The dislodged fat will be suctioned out of the chest with the cannula. Dr. Yoo will strategically remove stubborn fat cells and help contour the entire chest.
Once the procedure is completed, the incisions will be closed with sutures. You will be taken to a recovery room and monitored until you wake up and are able to return home.
Recovery
After your surgery, your chest will be swollen, bruised, and sore. Prescribed medications will help keep you comfortable as you rest and heal. A compression garment will be applied to the chest and will need to be worn for four to six weeks. This compression garment will help control swelling and assist your chest in adjusting to its new contours.
You should be able to return to work after a week or less of recovery. Avoid strenuous activity and make sure to attend follow-up appointments to ensure your recovery is going well.
Results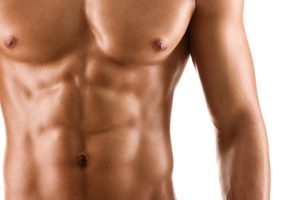 Your results will be immediately noticeable. As swelling decreases, you will notice your final results setting in. These results will last you a long time!
At Dr. Yoo's office, we want our patients to enjoy their results for as long as possible. That's why we recommend exercising and eating healthy to keep your results looking amazing for years to come!
Complementary Procedures
Men who have ample breast tissue may require a breast reduction and lift. This surgery will reduce excess tissue and lift the breasts back to their masculine position. When a lot of weight is gained in the breasts, the areolas may become stretched out.
A breast reduction and lift will include reshaping of the areolas and breasts for your best results!
Cost
Dr. Michael Yoo, a Top Irvine Plastic Surgeon, hand-tailors every chest liposuction procedure to the needs of the individual patient. Our personalized approach means that each patient's lipo surgery cost will reflect the details of their treatment. To learn more about the cost of male chest liposuction, schedule a consultation with Dr. Yoo today at (949) 861-3340.
FAQs
Can liposuction get rid of gynecomastia?
Yes. Liposuction is an effective surgery to reduce unwanted fat stores. For some men, it is very difficult to reduce fat in the chest and obtain the sculpted pectoral muscles they desire. Liposuction can be used to slim down the chest and help accent the muscles of your chest.
Can gynecomastia go away?
Yes. Many males who undergo gynecomastia are entering a time in their life where their hormones fluctuate. Gynecomastia will go away after a few years or, in the case of newborn babies, a few weeks. However, some men may want to reduce the effects gynecomastia has caused on their chest. To improve the definition of your chest, liposuction can be used to reduce excess tissue and enhance muscle definition.
Can you remove gynecomastia?
Yes. Gynecomastia or the swelling of breast tissue is caused by a hormone imbalance. The excess swollen tissue can be removed with lipo surgery.
How much is liposuction for male breasts?
Male chest liposuction is a unique procedure for each man. There are many factors that go into a lipo surgery for the male breasts. These considerations include the method of liposuction used and the amount of tissue being removed. If you would like to learn more about your personalized procedure, schedule a consultation with Dr. Yoo today.
Is gynecomastia surgery necessary?
Gynecomastia surgery may not be necessary. Some doctors may recommend patients take medications or try out new lifestyles to reduce tissue swelling. However, gynecomastia surgery will provide you with instant results! Hormone medications and other plans will not provide you the instant outcome that surgery will.