What is a Non-Surgical Nose Job?
Non-surgical nose job, also called non-surgical rhinoplasty or "the 15 minute nose job," can improve the appearance of the nose by using dermal fillers. Non-surgical rhinoplasty can:
Make nose appear smaller
Correct bumps and lumps
Straighten the nose
Fix a droopy tip
Most doctors will start the patient off with a temporary dermal filler, such as Juvéderm, and then move up to a more long-lasting filler. This is one benefit of a non-surgical nose job. Patients can effectively "trial run" their nose job to see how they like it, before committing to a long-term change.
Non-Surgical Nose Job Benefits
Non-surgical rhinoplasty is attractive to many patients, primarily because there is no downtime involved. It is a good option for patients who have minor concerns about their nose but don't wish to undergo surgery to address them. Patients will be able to enjoy their results in as little as an hour and may return to their regular routine directly following the treatment. While patients may experience some initial swelling or bruising, there will be no long term scars and there is no need to commit to a permanent surgical change.
Good Candidates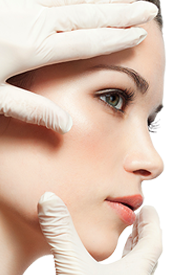 Good candidates for a non-surgical nose job may be patients whose nose is fully grown but have bumps, depression, or a droopy nasal tip. They may also wish to straighten out their nose. However, non-surgical rhinoplasty cannot make the nose smaller. Patients with noses that are too big, excessively wide, have very prominent bumps or lumps, or have been broken may not be good candidates. However, when the fillers are properly injected, the procedure can make the nose appear smaller when it is actually getting enlarged. Dr. Yoo will be happy to provide photo examples during the consultation. Non-surgical nose job patients should be in good health and not smoke.
The best way to determine one's candidacy for a nonsurgical nose job is by meeting with a board certified plastic surgeon who has special training in performing facial cosmetic surgery, like Dr. Yoo.
Procedure Information
The non-surgical rhinoplasty procedure typically takes 15-30 minutes and is perform in-office. Patients will receive a topical anesthetic in order to help minimize discomfort. The doctor will then strategically inject the dermal filler of choice into and around the nose in order to correct irregularities and enhance the shape. The patient will play an integral part of the procedure, using a mirror in order to help ensure that they achieve their desired results.
Cost
A non-surgical rhinoplasty will not incur many of the additional fees that go along with surgical rhinoplasty. However, although patients will not have to deal with anesthesia, operating room costs, or recovery garments, non-surgical nose job patients will have to return for more injections if they want to maintain their results. The cost of each dermal filler also varies, so cost can only be provided to patients after a consultation appointment where Dr. Yoo has the opportunity to examine the nose and case specifics.