2016 Special
Tummy Tuck Promo Price
[This Month Only]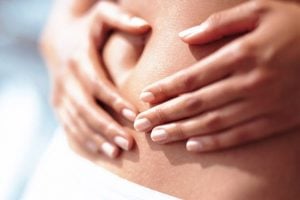 Patients at my Orange County Office frequently request this procedure to remove the excess skin and fat from their abdominal area and restore confidence in their bodies.
What is a Tummy Tuck?
A Tummy Tuck, or Abdominoplasty, is a powerful surgical procedure used to contour the abdomen into a more aesthetically pleasing shape. The procedure involves the removal of excess skin and fat from the lower abdomen, as well as tightening of the midsection that has loosened with time. It can be performed on its own, or in conjunction with other procedures such as Liposuction, which serve to further enhance the final result.
Ideal Tummy Tuck Candidates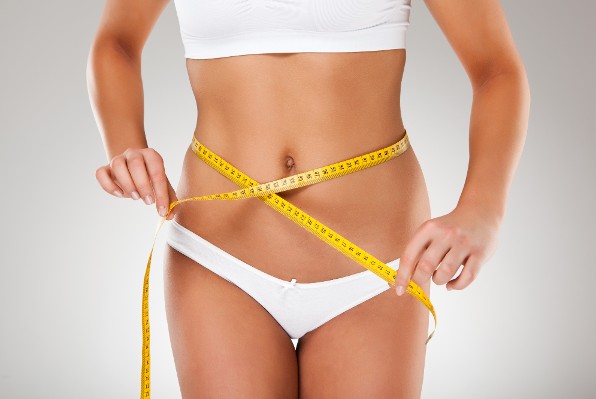 The best candidates for this procedure are those who are close to their ideal body weight, in good general health, and lead a healthy lifestyle. Men and women who are seeking a Tummy Tuck often find that working out and dieting are not providing the results they desire. Individuals who have experienced significant weight loss might also notice loose hanging skin that does not improve with exercise and diet.
During pregnancy or significant weight gain, the abdominal (belly) skin is often stretched to the point that the skin loses its natural elasticity and the ability to "bounce back", often resulting in loose, sagging skin. The abdominal muscles are also stretched out, leading to a rounded and protruding belly. Despite persistent efforts, diet and exercise will not significantly improve this appearance. In these cases, a Tummy Tuck is recommended to tighten the stomach area and remove excess, sagging skin and fat. In many instances, the results of this procedure can be dramatically enhanced by the addition of Liposuction, which is used to sculpt and contour surrounding body areas.
Techniques We Use
Full Tummy Tuck
A Full Tummy Tuck is generally recommended for individuals with significant amounts of loose, hanging skin and fat. The incision is generally made from hip to hip in a location that is well concealed in the bikini line. The abdominal muscles, or "6 pack," which have been stretched apart from the midline are brought back together, creating an internal, natural corset to tighten the midsection.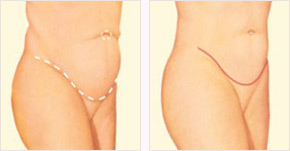 The excess skin and fat is re-draped with a moderate degree of tension and then removed, leaving a tightened and flat midsection. The belly button is left attached to the abdominal wall during this process, and brought through the skin that is re-draped, leaving a rejuvenated appearance to the belly button as well.
Mini Tummy Tuck
A Mini Tummy Tuck is a scaled-down version of a Full Tummy Tuck. It typically involves tightening of the abdominal muscles below the bellybutton, but it can consist of tightening the muscles both above and below. With a Mini Tummy Tuck, the skin does not need to be re-draped as drastically as a Full Tummy Tuck, and generally does not require a new skin incision for the bellybutton. The incision length is generally smaller than a Full Tummy Tuck.
Modified Tummy Tuck
A Modified Tummy Tuck is ideal for those who require only minimal assistance in defining their abdomen. This procedure concentrates on enhancing either just the abdominal skin or just the abdominal muscles.
Male Tummy Tuck

A Male Tummy Tuck is ideal for men who have recently lost a large amount of weight and have significant excess skin as a result. The abdominal muscles are sutured together and tightened, and the sagging skin is excised and re-draped to reveal a flat abdomen.
High-Tension Tummy Tuck
A High-Tension Tummy Tuck is a preferred method for women who desire a slim, corset-like waist. Like the Full Tummy Tuck, the abdominal wall is sutured and tightened vertically, as well as horizontally. This cinches the waist, creating nice definition from waist to hips.
Before & After Photos
Ancillary Procedures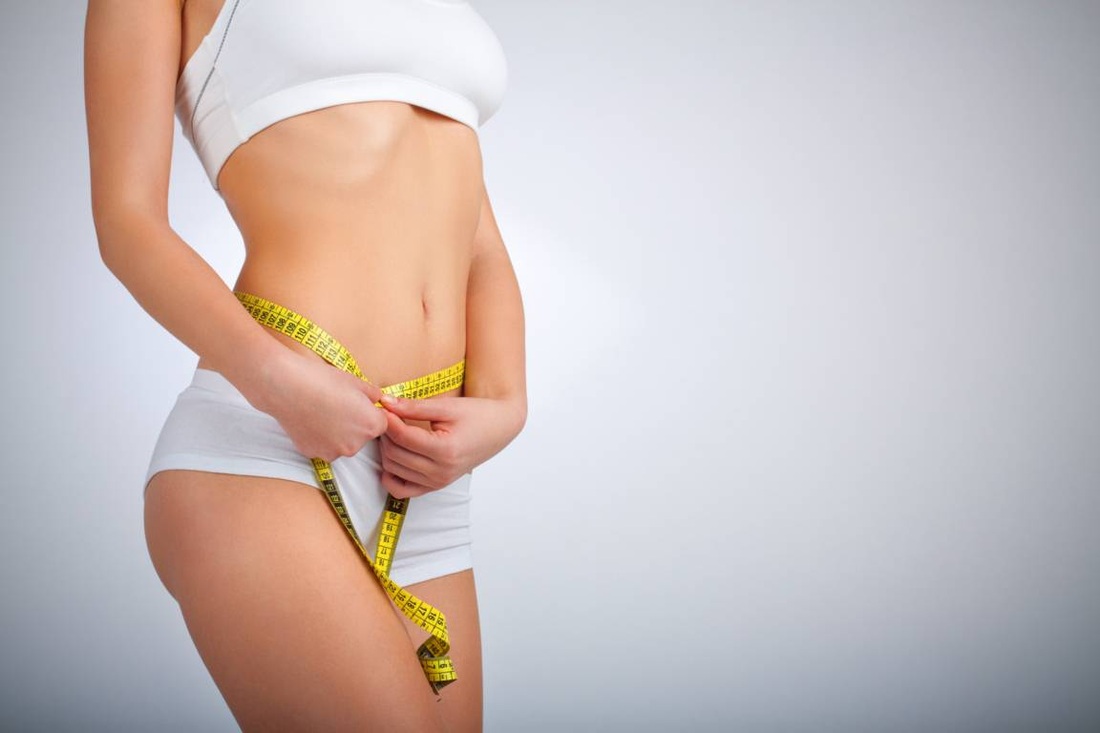 While a Tummy Tuck can be performed as a procedure on its own, it is often times complemented by other procedures.
Liposuction
Liposuction is a commonly used procedure that removes localized fat deposits from various parts of the body by means of suctioning. Very often Liposuction will be used as a supplementary tool to sculpt the abdominal area by removing discrete or excessive fat deposits, allowing Dr. Yoo to then remove the excess skin, and tighten the abdominal muscles in order to create a flat abdominal contour. The combination of these procedures work synergistically to enhance the final result.
Body Lift
If you've experienced significant weight loss, whether through diet and exercise or by surgical means, you are often left with a large amount of excess, stretched skin. There is a limit to how much the skin will naturally tighten to your newly toned body; this is where a Body Lift is helpful.
Mommy Makeover
A Mommy Makeover consists of a combination of different procedures performed simultaneously to restore post-pregnancy bodies to their pre-pregnancy shape. This can consist of a Tummy Tuck, Liposuction, Breast Augmentation, or Breast Lift. A combination of any of these procedures will give moms their youthful bodies and confidence back. We know each mother is different, so during your consultation Dr. Yoo will assess what your specific aesthetic goals are and see what procedure(s) will most effectively achieve them.
Consultation
During your consultation with Dr. Yoo, you will have the opportunity to discuss your concerns and motivations for pursuing cosmetic surgery. He will then perform a thorough examination to determine which customized techniques will help you achieve your aesthetic goal. Dr. Yoo will then go over all of your options and give you all the necessary information to assist you in making an informed decision.
After your consultation with Dr. Yoo, you will meet with the Patient Care Coordinator. She will be a very important liaison to your care and will be available to answer most of your questions. You will come to know the Patient Care Coordinator quite well over the course of your surgery and recovery period. Pricing and finance option inquiries will be addressed at this time as well.
Call our Irvine or Beverly Hills offices to schedule a consultation to get started.
Preparation for the Procedure
Certain tasks need to be completed in order to prepare for your Tummy Tuck surgery. Firstly, refrain from smoking or any nicotine containing products for at least 4-6 weeks prior to your surgery.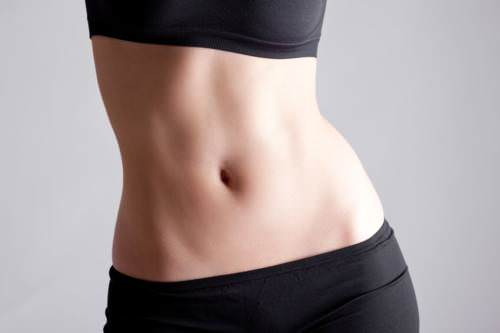 Anti-inflammatory drugs (i.e. ibuprofen, aspirin, naproxen) and all herbal/vitamin supplements not prescribed to you by a medical doctor should be discontinued, as these can potentially increase bleeding and bruising. Please be sure to mention all of the medications/supplements/vitamins you take at your consultation as Dr. Yoo may ask you to adjust them.
Please be sure to have a ride arranged to take you home after surgery; you will be unable to drive yourself. It is highly recommended to have someone stay at least overnight with you to help with your immediate recovery. Dr. Yoo will give you specific postoperative instructions in order to ensure a safe recovery.
What Does the Procedure Involve?
When you arrive for your surgery, Dr. Michael Yoo will mark on your abdomen where the incision will be made. The incision is made in such a place where it is well concealed within the bikini line. The length will depend on the amount of skin that needs to be excised in order to create a smooth, flat contour. The procedure is performed under general anesthesia and you will be asleep throughout the surgery. During the procedure, the excess skin and fat of the lower abdomen will be removed and your abdominal muscles will be tightened, giving you a more toned and contoured tummy.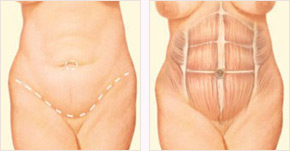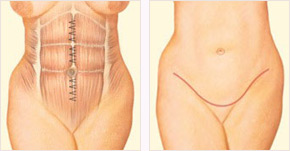 Your procedure will take between 2-4 hours, depending on your specific case and whether you undergo ancillary or additional procedures. The sutures used to close the incision are dissolvable and do not need to be removed on subsequent visits. Drainage tubes are often used to suction fluid from underneath the skin, to promote healing and decrease swelling/bruising. The tubes are removed when the drainage output reaches a certain level that signifies appropriate healing.
Recovering from Tummy Tuck
Following the detailed instructions Dr. Yoo outlines is essential for a smooth and swift recovery. Here are several post-surgery key points to keep in mind:
You will be covered with dressings and a compression garment, only to be taken off when instructed. This aids in the reduction of swelling.
You will require drainage tubes to remove excess fluid underneath the skin. Dr. Yoo will give you specific instructions on how to care for them and when they will be removed. They are typically in place for about 5-10 days, depending on your specific case.
Stay away from anti-inflammatory medications and alcohol (for a determined amount of time) following your surgery since these increase bruising.
For the first two weeks, it is important to sleep in a "beach chair position" (flexed at the waist, back elevated and legs slightly up). Resting in this position decreases tension at the incision line and promotes proper healing.
Remember to walk slightly bent at the waist: Walking slightly hunched over at the waist for the first week minimizes tension on the incision line, promotes good healing, encourages circulation, and minimizes the risk of blood clots in the legs. It is very important to walk immediately after the procedure, including the same day of the surgery.
Recovery varies from patient to patient. One can expect to return to work approximately 1-2 weeks after surgery, depending on the occupation. Activity level is gradually increased over the first several weeks and full activity can usually be resumed between 6 to 8 weeks. You will be prescribed pain and/or anti-nausea medication to keep you as comfortable as possible while healing.
It is very important to maintain a healthy lifestyle to ensure you have lasting results. A Tummy Tuck procedure is not a substitute for weight loss. Pregnancy after a Tummy Tuck may affect results.
If you follow all postoperative recovery instructions, eat well and exercise, you can enjoy your newly contoured, toned abdomen for many, many years to come.
Price
The price of your Tummy Tuck procedure depends on your specific case and aesthetic goals. Additional or ancillary procedures may be necessary, depending on your body type, in order to accomplish your objectives. To gain a better idea, schedule a private consultation with Dr. Yoo and his Patient Care Coordinator will provide you with a quote for your individual case.