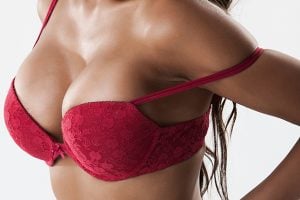 Breast augmentation is one of the most common plastic surgery procedures performed in the world today. My patients in the Orange County area seek breast augmentation to provide a safe and effective way to increase the size of their breasts, improve their figure and boost self confidence.
As an experienced plastic surgeon in breast augmentation surgery, I will help guide you through these choices and make a decision that best meets your goals.
What is Breast Augmentation?
Breast augmentation, or augmentation mammaplasty, is a surgical procedure that adds volume to and increases projection of a woman's bust. This is accomplished by either inserting implants into the breast or injecting fat retrieved from another area of the body. There are a variety of options to choose from when enlarging the breasts with implants, such as size, shape, implant placement, and incision location. Although breast augmentation can address very minor cases of ptosis (sagging), it is not meant to act as a universal remedy. Breast augmentation can be easily performed in conjunction with other procedures such as a breast lift or tummy tuck.
Every year, thousands of women choose to have this surgery performed for various reasons and are extremely satisfied with their results.
What are "Normal" Breasts?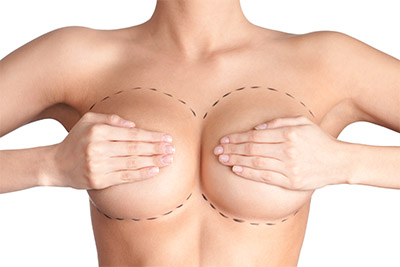 Anatomically speaking, there is no such thing as normal or perfect breasts as there exists a wide range of sizes and shapes that are considered to be aesthetically pleasing. It is widely accepted, however, that 'attractive' breasts share several key common features: symmetry, fullness, proportionality to one's body size, and a nipple areola complex that is centered on the breast mound. Breast augmentation surgery can provide you larger, fuller, and more proportionate breasts.
Common Reasons Women Seek Breast Augmentation
Wanting a larger breast size
The desire to look better in clothing
Improving the appearance of one's breasts after pregnancy or breastfeeding
Correcting breasts that are different in size or asymmetric
Make the breasts proportionate to the rest of the body
Add volume after significant weight loss
Performed along with a Breast Lift to add volume while correcting sagging
To revise a previous breast surgery
Options to Consider
There are a number of options available for breast augmentation, such as implant type (saline vs silicone), implant shape (round vs anatomically shaped), incision location (inframammary or periareolar), and implant location (under the breast tissue or under the chest muscle). Dr. Yoo will discuss each of the following options in full detail with you during your consultation so you have the ability to make an educated decision for optimal results.
Size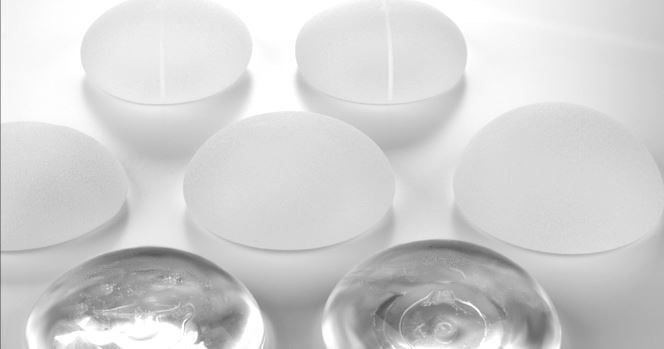 Implant size refers to volume. It is not measured by bra cup size (A, B, C, D, etc.) but rather cubic centimeters (cc.) Cc's are the metric unit of volume used to describe breast implant capacity. Both saline and silicone implants are measured in cc, and typically range from 120cc to 800cc.
Texture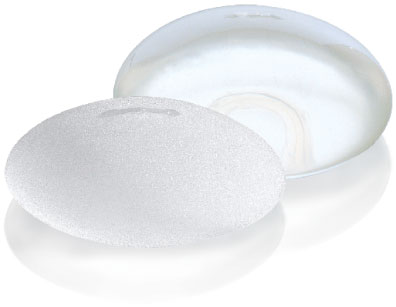 Implants are confined in a solid silicone outer shell that can either be textured or smooth. A textured implant can offer placement security, as it will stay stationary in the position in which it is placed due to scar tissue sticking to the implant. Smooth implants, as their name implies, have a smooth surface and can move within the pocket. This movement will not change the shape of the breast. Dr. Yoo will discuss with you which implant texture is ideal for you.
Shape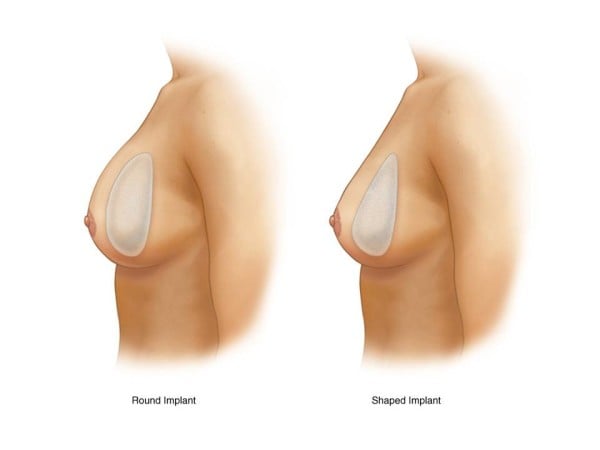 A breast implant can be either round or anatomical (teardrop.) Round implants are circular in shape and create a fuller breast with a large amount of cleavage. Round implants can come as either a smooth or textured implant since implant rotation in the pocket will not change the shape of the breast. Teardrop or anatomical implants have a slight slope to them, and are designed to mimic the shape of a 'natural' breast. Teardrop implants are only offered as textured, since its rotation in the pocket will change the shape of the breast.
Composition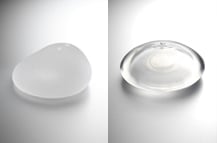 Breast implants are made of either saline or silicone. Each has its merits, so the decision will ultimately come down to personal preference. Saline implants are inserted into the breast pocket empty, and once placed are then filled with a sterile saline solution. Silicone implants are pre­filled with a cohesive gel which holds itself together as a semi­solid mass. Silicone implants more closely mimic the 'feel' of a natural breast.
Implant Profile

Breast implant profile refers to the projection of the breast from the chest wall. Implants are often offered in four profiles: low, moderate, moderate plus, and high. The lower the profile, the less it will project from the chest. Low profile implants are best suited for women with wider frames, as the implants are wider than high profile implants. High profile implants are best for a narrow chest.
Implant Placement
Submuscular (Under the muscle): ­The implant is placed under the pectoral muscle. This method is often used for women who do not have a sufficient amount of natural breast tissue to cover the implant edges.
Subglandular (Over the muscle):­ The implant is placed in front of the pectoral muscle, behind the mammary gland and fatty breast tissue. This method provides more projection and is often used for those who have a sufficient amount of natural breast tissue to adequately cover the implant.
Incision Location
Periareolar: A periareolar incision is made on the lower half of the areola at the junction between breast skin and the pigmented areola. This incision is most commonly used if a patient is undergoing additional breast procedures such as a Breast Lift or areola reduction.
Inframammary Crease:­ An inframammary crease incision is made in the natural crease underneath the breast. This method gives surgeons easy access to create a pocket above or underneath the muscle, which means greater control. Scarring is minimally visible as it blends in with the breast's natural fold.
Before and After Photos
Your Consultation
At your consultation, you will have the opportunity to share your concerns about your breast size and your aesthetic goals. Dr. Yoo will then perform a thorough examination and evaluation. If you are deemed a good candidate, he will guide you through the various choices and formulate a plan that best accomplishes your goals and gives you the result you most desire. You will be shown before and after photos of prior patients with a similar frame and size to show you possible results. Results vary from patient to patient so this is only meant to serve as a general idea of what your results might look like. Any and all questions, including pricing, will happily be answered at this time.
If you are considering breast augmentation, please call our office at (949) 861­3340, or schedule a consultation online to get started.
Procedure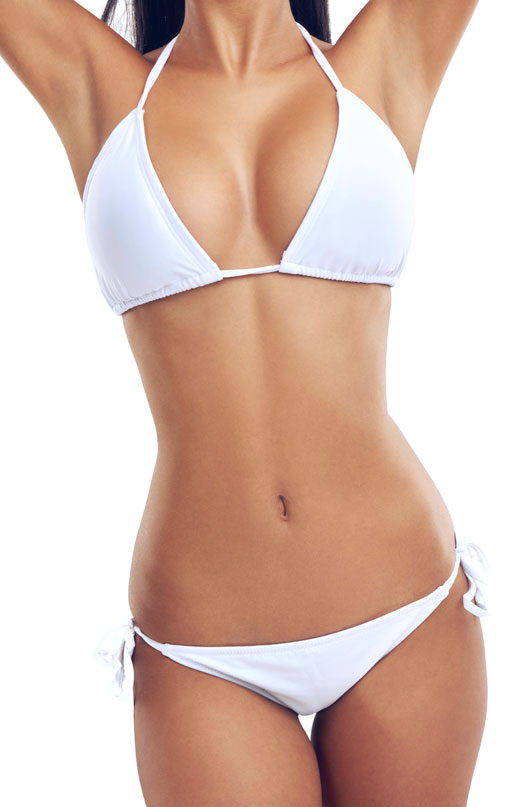 The procedure takes between 1.5 to 2 hours and is performed on an outpatient basis. General anesthesia is most commonly used.
The first step of breast augmentation surgery is marking the incision locations and several key landmarks on the chest wall to serve as visual aids. You will then be administered anesthesia, and once comfortably anesthetized, the incisions will be made following the pattern of the incision location you chose during your consultation. Dr. Yoo will then create a pocket for the implant to be inserted into, either in front of or underneath the pectoral muscle. The implants are then carefully inserted, keeping a careful eye for symmetry.
Once the implants are properly placed, the incisions are closed with absorbable sutures. You will be placed in a surgical bra and compression garment which are to be worn for 2­4 weeks to help the implants properly settle.
Postoperative Recovery
Your surgical bra and dressings can be removed shortly after surgery to shower. The incision should be well­ healed within a week. Sleeping on your back with your head elevated will help reduce swelling. There is some pain and tenderness that can be expected with breast augmentation surgery ­this can be controlled with pain medication prescribed by Dr. Yoo.
Daily activities can usually be resumed within a few days after surgery and depending on the occupation, most patients can return to work within 5­-7 days. Activity levels can be gradually increased over the first two weeks, but more strenuous activity and heavy lifting should be avoided until the 4 – ­6­ week mark.
Price
The cost of your breast augmentation will depend on the specifics of your case. The price will also vary if you opt to receive additional procedures performed at the same time. To receive a quote, schedule a consultation to speak with Board Certified Plastic Surgeon Dr. Michael Yoo.