Breast procedures are the collection of aesthetic and reconstructive surgical procedures that enhance or reconstruct the breasts. Breast procedures include breast enlargement with implants, breast reduction, breast reconstruction, breast augmentation, and breast lift.
Achieve Your Vision of Femininity
Everyone envisions a different ideal form for themselves. Some women wish for larger breasts while others seek smaller, perkier breasts. Other women just want a return to their natural breasts before undergoing pregnancy, lumpectomy, or mastectomy. Breast procedures offer a variety of solutions for a number of issues.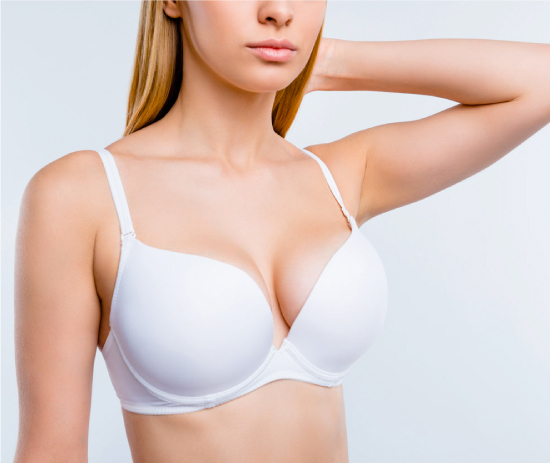 Whatever your circumstances, Michael J. Yoo, M.D. can help you reach beyond your current situation and find the form you desire. Breast procedures are one of Dr. Yoo's specialties. Dr. Yoo completed additional Fellowship training in the Aesthetic & Reconstructive Surgery of the Breast. He supports your goals with extensive experience and training under the American Society of Reconstructive Microsurgery. Dr. Yoo empowers women by helping them achieve the cosmetic results they envision for themselves. Read through some of Dr. Yoo's patient reviews to get a feeling for the quality of service you can expect when coming in for breast procedures. Dr. Yoo maintains two convenient offices to serve the Southern California area, one in Orange County and one in Beverly Hills. You can contact our offices online or you can give us a call. We'd be happy to answer any questions you have and set up an appointment.
Irvine: (949) 861-3340
Beverly Hills: (424) 209-9925
About Breast Procedures in Beverly Hills
Breast procedures are the most popular plastic surgery procedures around the world. Breast augmentation, breast lift and breast reduction are all in the top 10 of cosmetic surgical procedures while breast reconstruction is in the top 10 of all reconstructive surgical procedures.[1] With breast procedures so prevalent in today's world, it's important to find a surgeon that combines surgical skill with the artistic vision to help you accomplish your goals. Dr. Yoo regularly performs all types of breast surgeries. If you are looking for augmentation, he can help you bring the vision of your ideal form into a reality. If you need to undergo a mastectomy, he can work with your oncologists and devise a comprehensive plan for reconstruction.
What Are the Types of Breast Surgery?
The two broad categories of breast surgeries are breast enhancements and breast reconstruction. Some overlap exists and many times breast reconstructions can include elements of breast enhancements. Breast reductions are sometimes listed as a separate category, but some websites might include them in enhancements. Breast reductions enhance the appearance of the patient to achieve their desired aesthetic outcome. In general, breast enhancements include breast lifts, breast augmentation, breast reduction, breast lifts with implants, and fat transfer to the breast. Breast reconstruction surgeries include breast revision, breast augmentation revision, and breast implant removal and/or replacement.
Before and After Photos
Personal Consultation
Breast surgery, either reconstructive or cosmetic, can be an intense and personal decision. Dr. Yoo lends an empathetic ear to discussions of these sensitive topics. After listening to your goals and expectations and reviewing your medical history, Dr. Yoo can make precise recommendations based on your natural frame and the outcome you desire. Different solutions will work for different patients. When it comes to breast surgery, there is definitely no common solution that works for every patient. Every breast procedure Dr. Yoo performs is customized and tailored to each patient's specific situation and needs.
Irvine: (949) 861-3340
Beverly Hills: (424) 209-9925
Schedule a consultation online if you want to learn more about which breast procedure might be suitable for your circumstances. You can also reach out to our offices and our helpful staff can answer any of your questions.
Results
The key to optimal results is matching the patient with the right breast procedure for their needs. Some patients might seek a restoration of balance and symmetry while others might want a return to their pre-pregnancy form. The right procedure will accomplish the best results.
FAQ
Are breast augmentation and breast implants the same thing? 
Yes, they are two names for what is usually the same procedure. Some websites might list breast fat transfer under the category of breast augmentation but usually, augmentation and implants are used interchangeably.
Which breast implants feel the most like natural breasts?
Generally, silicone-based "gummy bear" implants feel the most like natural breasts. In many cases, gummy bear style implants are practically indistinguishable from natural breasts.
Breast Procedures
Breast Augmentation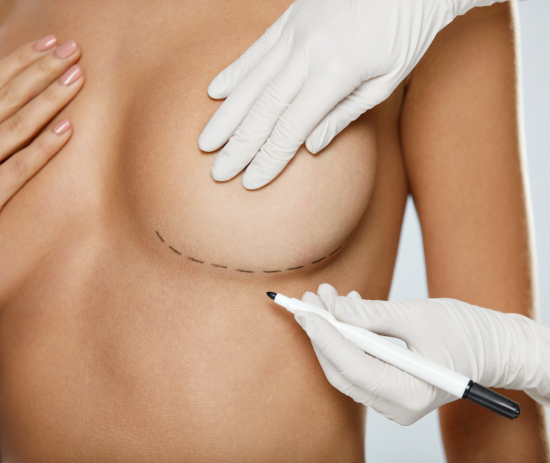 Breast augmentation is the single most popular cosmetic surgery procedure around the world. Augmentation encompasses different methods and uses different materials but all of them achieve some form of enhancement to the size and volume of the breasts. Breast implants are made from silicone or saline with traditional implants coming in a round shape. One popular innovation in breast augmentation is gel-based and teardrop-shaped implants which are sometimes called "gummy bear" implants for their natural-feeling texture. The teardrop shape has become popular for its more natural-looking shape.
Reasons that women seek breast augmentation.[2]
29% – improve the size or volume
15% – improve the overall shape
29% – return to a previous shape (pre-pregnancy)
32% – address sagging
8% – improve symmetry
Breast Lift
Breast augmentation focuses on the size and volume of the breasts. Breast lifts address the position and perkiness of the breasts. Many women find that after pregnancy and breastfeeding, their breasts tend to sag or droop. Breast lifts help women regain their pre-pregnancy form. Breast lifts can remove excess skin and carefully reposition the breast to restore the shape, buoyancy, and orientation that patients request.
Breast Fat Transfer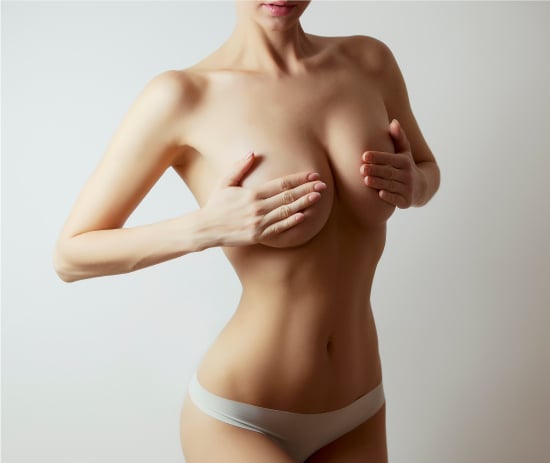 Some women request more subtle enhancements to their breasts. In these cases of more understated adjustments, sometimes fat transfer to the breast provides an ideal solution. Breast fat transfer utilizes excess fat extracted from stubborn areas of the body (thigh, buttocks, love handles) and transplants it into the breasts to reshape the breasts. An added benefit is the body contouring of another region of the body that usually defies diet and exercise. Fat transfer can repurpose this unwanted fat to help sculpt the breasts into the desired shape and volume. Breast fat transfer has the advantage of natural-looking results and using the body's own tissue. A drawback is that the enhancement is often limited in scope compared with breast implants. Keep in mind that fat transfer can only occur from your own body. Despite the common phrase "I'd give you some of my excess fat", your friend can't donate their excess fat to enlarge your breasts.
Breast Reduction
Breast reduction is a popular solution for both aesthetic and pragmatic reasons. Back problems are common among women with breasts that are too large for their frame. It's often the best solution for long-term health to undergo a breast reduction before more intense back problems arrive. For other women, they might simply prefer smaller breasts that better match their frame. The ideal breast size and volume for one woman might be awkward or burdensome on another woman. 
Breast Implant Removal
Our aesthetic priorities change as we age. What was once the ideal profile might grow to become a less desirable image. You should never feel trapped by the decisions you made when younger. In cases where a woman no longer wants the implants she once desired, we offer a comprehensive breast implant removal procedure. Sometimes, particularly with older implants, a capsule has formed. A breast capsule is formed when the body constructs fibrous scar tissue around the breast implant. This can sometimes result in undesirable sensations or appearance. The breast capsule can tighten which causes capsular contraction. Breast implant removal can resolve issues involving the encapsulation of breast implants. 
Breast Augmentation Revision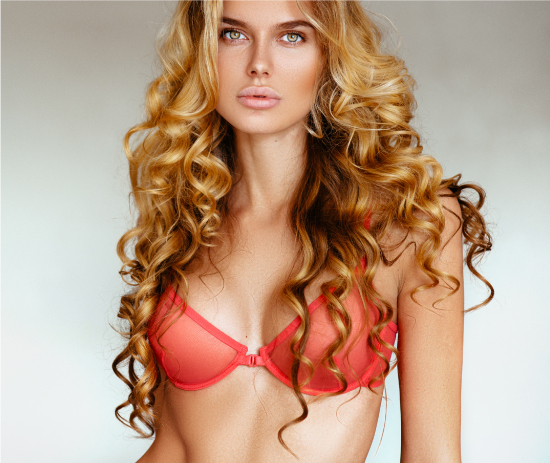 Sometimes when a woman receives breast augmentation, the result is less than the outcome desired. With breast augmentation so popular, it might sometimes be performed by physicians without the requisite experience or understanding of all nuances required to sculpt the desired outcome. In these cases, Dr. Yoo can perform a breast augmentation revision and make adjustments to better match what a patient wants.
Breast Reconstruction
Disease and illness present difficult obstacles to overcome. In cases where a breast or both breasts require reconstruction, Dr. Yoo offers compassionate care tailored to your circumstances. He will take all the time you need to go over all the options available and help you come to a decision that best meets your needs. Breast reconstruction can often help you psychologically recover from difficult circumstances.
Nipple and Areola Reduction/Reconstruction
The Nipple Areola Complex (NAC) plays an important role in the visual appearance of the breasts. Sometimes, due to a variety of factors, a woman may wish to reduce or adjust the NAC to better match her breasts or achieve symmetry. Nipple and areola surgery can also resolve issues such as inverted nipples or restore the appearance of nipples to women that were either born without nipples or had nipples removed during a previous surgery.