Women who have a large bust can often feel self-conscious or experience discomfort due to the heavy weight of their breasts. The size of a woman's breasts can also cause long-term physical issues, such as neck, back, and spinal problems. Women tend to see a significant decrease in their ability to enjoy physical activities and can see hindrances in other areas in their lives. There is no need to carry around all of the excess weight and discomfort that comes with having oversized breasts any longer. Contact our office today and schedule a consultation with Dr. Michael J. Yoo to find out more about how a breast reduction can help you to live your best life.
What is Breast Reduction?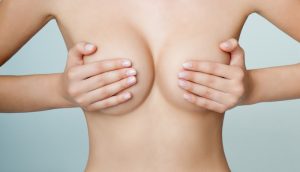 A breast reduction, or clinically known as reduction mammoplasty, is a procedure designed to reduce the size of a woman's bust. This is done by removing tissue and excess skin from the breasts, which will also improve shape, symmetry, proportion, and elevation. Breast reduction surgery is often performed on women whose breasts have led to physical and/or emotional distress. Oftentimes, large breast size is accompanied by physical discomfort (in the back or neck, for example.) Our patients in the Orange County area seek breast reduction to alleviate symptomatic macromastia, or symptoms caused by large breasts, while also making their breasts more proportional to their bodies.
Women now have the option to "lift the weight off their chest", if you will, and start enjoying their bodies again. Dr. Yoo provides amazing results, giving his patients a chance at a new, more freeing, life. Breast reduction patients are often the happiest with their results.
Why Choose Breast Reduction?
There are a number of reasons why women seek breast reduction surgery, or reduction mammoplasty, including:
The desire to have smaller, better shaped and more proportional breasts to the rest of the body
Chronic back, neck, and shoulder pain from the heavy weight of the breasts
Chronic rashes underneath the breasts from constant rubbing and irritation
Difficulty finding a bra that fits properly
Difficulty fitting well in blouses
Difficulty with daily activities including exercise and running
Constant teasing particularly in the teenage population
Breast reduction surgery not only reduces the size of the breasts but also lifts and reshapes them as well. The areola, which is the pigmented part of the breast surrounding the nipple, can also be reduced during the procedure, enhancing the overall aesthetic result. This surgery shares many of the same techniques and principles as breast lift (mastopexy) surgery. Both aim to create a more aesthetically pleasing and proportioned breast shape.
Before and After Photos
Candidates
Women looking into a breast reduction procedure should maintain a steady diet and exercise regime, being in overall good health and is a non-smoker. The ideal candidate to undergo this procedure is looking to surgically reduce the overall shape and size of their overly large breasts. These women, in most cases, experience discomfort in one form or another due to this and are looking for a way to rid their bodies of the excess weight and burden of their large breasts. These women should not be pregnant, breastfeeding, or plan on having children in the future, as these factors can negatively impact the final results.
For women who are looking to lessen the weight and size of their oversized breasts, correct asymmetry, and start enjoying their life again, breast reduction may be the right procedure for you. Contact our office and schedule a one on one consultation with Dr. Michael Yoo to find out what a breast reduction can do to improve your life!
Consultation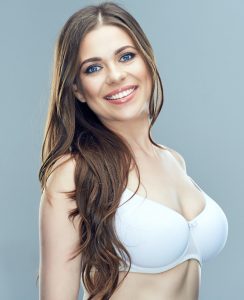 During the initial breast reduction consultation, Dr. Yoo and the patient will have a discussion about the physical symptoms experienced and the goal breast size. He also will review prior medical history, any previous surgeries, current medications, and any other health concerns that may pertain to this procedure. Dr. Yoo will perform a physical examination in order to fully determine candidacy. Once it is determined that the patient is a candidate, Dr. Yoo will work with the patient directly to build an individualized treatment plan that will help them attain their aesthetic goals.
Before leaving the office, patients will have the chance to schedule their breast reduction procedure date, but by no means is this obligatory. We want to make sure patients are comfortable with their decision. If scheduled, we will provide the necessary preparatory information needed prior to undergoing surgery.
Preparation
In order to ensure complete safety and help to provide the best results possible, our office will be providing patients with instructions to follow during the weeks leading up to the breast reduction procedure. Dr. Yoo will ask all patients to refrain from taking any anti-inflammatory drugs 2 weeks before undergoing the surgery. If you smoke, you will be asked to quit 3 weeks before the procedure to help ensure health and safety. It is also recommended that patients arrange for a ride home the day of surgery because they will be unable to drive. If you have any questions during this time, our friendly and helpful staff are ready to assist in any way they can.
Breast Reduction Techniques
There are a number of breast reduction techniques that ultimately accomplish the same goal but use different approaches. The technique used really depends on the size of the breast. In the majority of cases, incisions will encircle the nipple-areola and travel straight down towards the bottom of the breast crease (so-called 'lollipop incision').
In larger reductions, an additional incision is made in the breast fold (so-called 'inverted T incision' or 'wise pattern'). These incisions generally heal very well and the resultant scars are acceptable to most patients. The sutures used are self-absorbable and don't need to be removed. Taping is used to further reinforce the incision lines and should be allowed to fall off on their own.
Procedure
Before beginning the breast reduction procedure, Dr. Yoo will mark the incision points on the breasts. This will be determined during the consultation. Once the breasts have been marked for accuracy, a certified anesthesiologist will administer the general anesthesia to ensure comfort throughout the surgery. The doctor will then begin by making the incision around the areola, and either the lollipop incision or the inverted "T" shape incision depending on which technique was chosen. Excess tissue and skin will effectively be removed with either incision technique.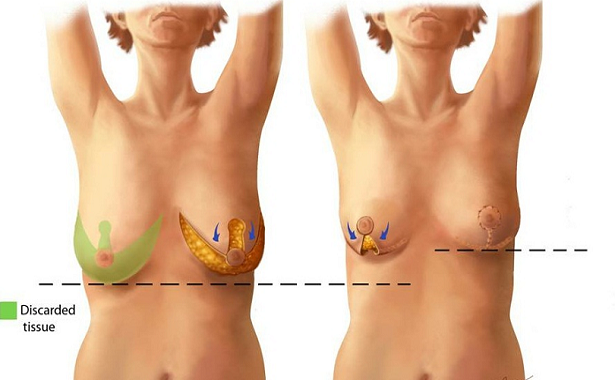 In some cases, the doctor will perform liposuction to aid in the reduction of mass. The extent of this portion of the procedure will vary from patient to patient depending on breast size and their overall goals. Once the tissue has been removed, Dr. Yoo will remove the excess skin and lift the breast and reposition the areola, ensuring symmetry. Once this has been completed, the doctor will clean the incision areas and wrap the breasts in a compression garment or a light surgical bra. The patient will then be taken to the recovery area to be monitored before being released to go home.
Recovery from Breast Reduction
A light surgical bra, which helps to support the newly shaped breasts, is worn for the first 4-6 weeks. Drainage tubes may be used temporarily for larger reductions to evacuate fluid and decrease swelling. They are removed when the output reaches a level signifying proper internal healing. It is recommended that the patient does walk, only a minimal amount, in order to improve circulation and help to reduce any risk of blood clots from forming. Depending on the occupation, most patients can return to work after about 1-2 weeks. Activity should be light and progress gradually as tolerated over the following weeks. Full activity is usually permissible at 6 weeks.
Results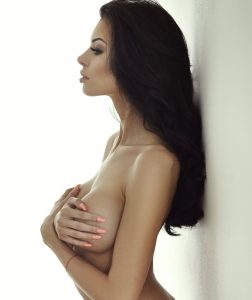 Patients will be able to see, and feel, the results instantly! However, the final and long-term results will be visible about 4-6 months after the procedure. The results speak for themselves, leaving our breast reduction patients very happy and confident about their new figures. Breast reduction surgery has one of the highest ratings of patient satisfaction amongst all plastic surgery procedures. Our patients have raved about their new, well-proportioned breasts and renewed self-esteem. Energy levels also tend to increase as patients are less weighed down and encumbered by the large size of their breasts. They are able to partake in activities once impossible like running. Bras and clothes also begin to fit much better and are easier to find.
Price
The cost of breast reduction surgery varies from patient to patient. Some insurances will cover the cost of breast reduction. Please speak with your insurance provider before scheduling a consultation so an accurate discussion can be held in regards to a quote.
If you would like to learn more about this procedure, please call our office at 949-861-3340, or schedule a consultation online. We would be happy to discuss the surgery in further detail, answer your questions and help you determine whether this is the right method to meet your goals.