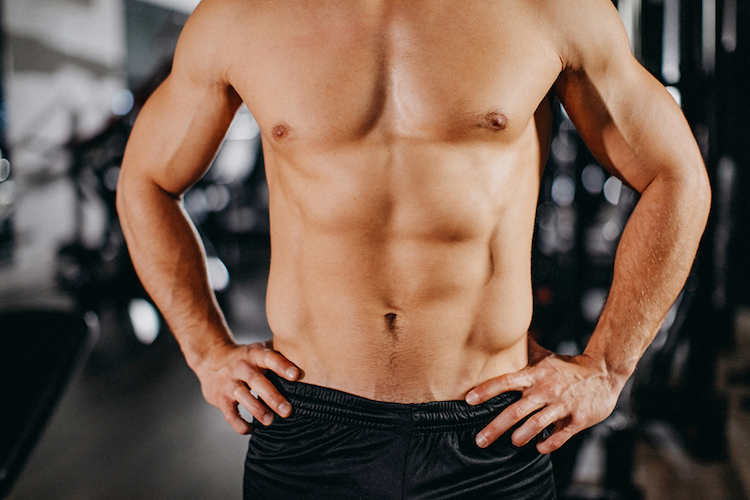 Liposuction for men is a body contouring procedure that addresses unwanted fat deposits in the male physique. This fat removal procedure removes the pesky pockets of fat that keep men from seeing the results of their workouts and can take a dire toll on their confidence and sex life.
Are stubborn areas of fat prohibiting you from achieving the tone and definition you desire? You're not alone. According to the latest report from the American Society for Aesthetic Plastic Surgery, more than 260,000 liposuction procedures were performed in the United States in 2019. Liposuction is one of the top five surgical aesthetic procedures, second only to breast augmentation. (1) If you've been struggling to cope with a little augmentation of your own, know that liposuction is also a sought-after and successful solution for gynecomastia: excess fat in the pectoral area.
Dr. Michael Yoo can help you maintain and accentuate sleek, masculine contours through meticulously executed liposuction procedures. With state-of-the-art offices in Orange County and Beverly Hills, Dr. Yoo performs this transformative procedure to give men the upper hand in achieving their body image goals, and leading a healthy, rewarding life.
If you're interested in liposuction, call our Irvine office at (949) 861-3340 or the Beverly Hills office at (424) 209-9925 today. Request a consultation to learn more about how liposuction can help you up your game.
Before and After Photos
About Liposuction for Men in Beverly Hills
Recent developments in liposuction technology offer better aesthetic results, lower complication rates, and faster recovery times than ever before. This explains the growing popularity of liposuction for men. Liposuction is an effective way to improve your physical presence, contour your figure, and achieve results that you cannot obtain with diet and exercise. (1)
The California lifestyle is aesthetically demanding. So, men choose liposuction for a variety of reasons. But whether it's to look younger, help with a career or love life, or to just feel good, masculine anatomy demands specially tailored procedures. The masculine ideal has defined and angular lines, with visible musculature. Unfortunately, genetics, aging, and lifestyle tend to situate extra body fat in the torso, obscuring the abs and making arms look smaller.
Liposuction isn't just one-size-fits-all fat removal. Dr. Yoo's passion for plastic surgery and years of experience ensure that he can accentuate male proportions that are properly tailored to your anatomy. However, it is important to note that liposuction is not a treatment for obesity or a substitute for a proper diet and exercise.
Popular areas for liposuction in men include:
Thighs
Hips and buttocks
Abdomen and waist
Upper arms
Back
Inner knee
Chest area
Cheeks, chin, and neck
Calves and ankles
Getting it Off Your Chest
Liposuction is also commonly performed on men who have developed gynecomastia. Gynecomastia is a condition often jokingly referred to as "man boobs." But there's nothing funny about it. This devastating phenomenon is often due to a hormone imbalance. When the male body emits more estrogen than testosterone, breast tissue increases. This can occur symmetrically or in just one breast, and this condition is a source of embarrassment and insecurity. In many cases of gynecomastia, the areola also becomes disproportionately enlarged. However, liposuction can also address this. The removal of the glandular and fatty tissue underneath the areola during liposuction releases the pressure that has expanded it. One study found that the size of men's areolas was significantly reduced by liposuction and avoided any need for additional surgery. (2) Liposuction helps to correct oversized breasts quickly and discreetly.
Benefits of Liposuction for Men in Beverly Hills
Liposuction is a sculpting technique that will provide benefits such as:
Reduced-fat deposits
Improved bodily contours
Permanently removed fat cells
Long-lasting results
Smoother, toned skin
Emphasizes other parts of the physique by correcting proportions
This procedure has physical benefits, and monumental emotional benefits. You deserve to look and feel your best.
Check out Dr. Yoo's blog to learn more about the procedures he's performed and the latest in cosmetic techniques.
Candidates
Liposuction is a procedure meant to rid patients of specific fat deposits: it is not a weight-loss procedure. Men who are interested in this procedure need to have a healthy lifestyle.
The ideal candidate will:
Be close to their ideal body weight
Have good skin elasticity
Be able to maintain a stable weight
Be able to follow the Doctor's instructions during their recovery
Personal Consultation
Before moving forward with your liposuction procedure, you'll meet with Dr. Yoo for a discreet and friendly consultation. You'll have the opportunity to discuss your aesthetic goals and desired outcomes. Your health greatly impacts how the procedure and recovery process will transpire, so a physical exam will help Dr. Yoo determine whether you are a good candidate for liposuction. You will need to disclose any past surgeries, general health, allergies, and current medications.
If liposuction will be an effective solution, Dr. Yoo will create a customized treatment plan that best achieves your cosmetic goals. He'll walk you through the liposuction procedure, its risks, and the long-lasting benefits.
Preparation
Before your liposuction procedure, you'll receive specific instructions on how to prepare.
Other ways we recommend you prepare for your surgery are:
Designate a comfortable recovery space in your home with necessities such as prescriptions, pillows, and entertainment close at hand.
Stock up. You will not be able to drive after your procedure, so it is important that you pick up groceries and any medications prescribed to you before your appointment.
Plan Ahead. You will need a friend or family member to drive you home after your procedure. Depending on where you receive liposuction you may also need to coordinate future rides or have a friend help you out in the days following the procedure.
Procedure
When you arrive for your procedure, your surgical team will greet you, and your treatment areas will be cleaned and marked for the procedure.
Once you're anesthetized and resting comfortably, your treatment area will be injected with a tumescent fluid that numbs the tissues and makes the fat easier to remove. Dr. Yoo will make small incisions, and insert a long, thin cannula to aspirate your fat. With a gentle back-and-forth movement, the fat cells are loosened and removed. When he's finished, you'll receive a few sutures, bandages, and a compression garment.
Recovery
Like any surgical procedure, swelling and bruising are to be expected. You'll have the option of a prescription to manage discomfort and wear a compression bandage to help minimize swelling and help your body adjust to its new contours. A drain may be placed in incisions, just underneath the skin, to help with the release of the fluids that your body naturally produces during the healing process. Our team will instruct you how to care for these.
Avoid strenuous activity and anything that would strain the treated area(s). Your follow-up appointments will help your surgeon monitor your healing and eventually remove drains, bandages, and sutures.
Although your results will be apparent immediately, they will only improve as swelling decreases and the skin heals. In the months following your procedure, your new streamlined physique will emerge, and you'll be able to enjoy all the benefits that liposuction offers men.
Complementary Procedures
A fat transfer is a common procedure to pair with liposuction treatment since it uses the fat that is extracted from your body to add volume to targeted areas. That fat is processed to remove impurities, and put in syringes to be injected back into your body. This procedure can also to add definition and the appearance of toning; fat can be transferred to accentuate the abdominal and pectoral muscles, arms, shoulders, buttocks, and calves.
How Much Does Liposuction for Men Cost in Beverly Hills?
The cost of your liposuction session will depend on factors including anesthesia, the number of areas treated, the amount of fat to be removed, and any additional procedures. You'll be given an accurate quote after your consultation and examination. However, being able to reap all the benefits of healthy, confident masculinity is priceless. If you've been thinking about liposuction, don't wait. Dr. Yoo will offer you honest and compassionate advice, and impactful results. Contact his office to set up an appointment and get started today.
FAQ
Is liposuction for men different from liposuction for women?
While the procedure is the same, there are considerations that are specific to the men. It's crucial to have a plastic surgeon that is compassionate and attentive to the inherent angles of ideal male anatomy. Liposuction for men can be a powerful tool in defining musculature and endowing the contours that enhance the body's proportions.
References
Saad AN, Pablo Arbelaez J, De Benito J. High Definition Liposculpture in Male Patients Using Reciprocating Power-Assisted Liposuction Technology: Techniques and Results in a Prospective Study. Aesthetic Surgery Journal. 2020;40(3):299-307. doi:10.1093/asj/sjz218
Keskin M, Sutcu M, Hanci M, Cigsar B. Reduction of the Areolar Diameter After Ultrasound-Assisted Liposuction for Gynecomastia. Annals of Plastic Surgery. 2017;79(2):135-138. doi:10.1097/SAP.0000000000000994